• Robert Mac Millan
Pictured: me and my good friend Randal Morrison of Tasmanian Special Timbers with Ancient Tasmanian Birdseye Huon pine veneer grade flitch estimated age 1700 years. Working closely with Randal at Tasmanian Special Timbers, I have already resawn tops at 7mm thickness for your custom build electric guitar or Bass guitar. We also have tops at 15mm thickness for carve tops.
---
• Robert Mac Millan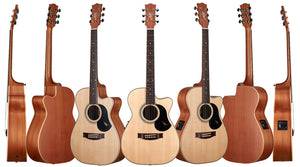 I am very proud to have played a part in this exciting project working closely with Maton Guitars. Maton is proud to announce the release of the Joe Robinson Signature Model Guitar. The guitar will be available starting December 1, 2020 through Authorized North American Maton Dealers. The J.R. Signature model is the next chapter of a relationship that stretches back almost 15 years. One the most inspiring players and singer/songwriters in the industry today, 29-year-old Australian native Joe Robinson has always been demanding of his instruments, and has been incredibly particular about the specifications. The J.R. Signature Model features...
---
• Robert Mac Millan
New stock available on the site very soon. Keep an eye out and feel free to get in touch with your specific requirements
---
• Robert Mac Millan
Describing the amazing Tasmanian Tonewoods to build his guitars, Bryan Rourke has this to say: My favorite for tone is the King Billy. It would be the most similar to other builders, falling somewhere between a very light, old dry redwood and the lightest western red cedar. It is very responsive, very warm with lots of bass and volume. For my light touch, it is my favorite classical hands down. At least the tops you have sent me, they were delicate. Anyone building one would be able to voice the top to their liking, with more or less bracing to...
---
• Robert Mac Millan
We're going to have new sets for all stringed musical instruments by Friday 11th September. Acoustic, Electric, Ukelele, you name it. Lots of Blackhearted Sasafras, figured myrtle, and blackwood.